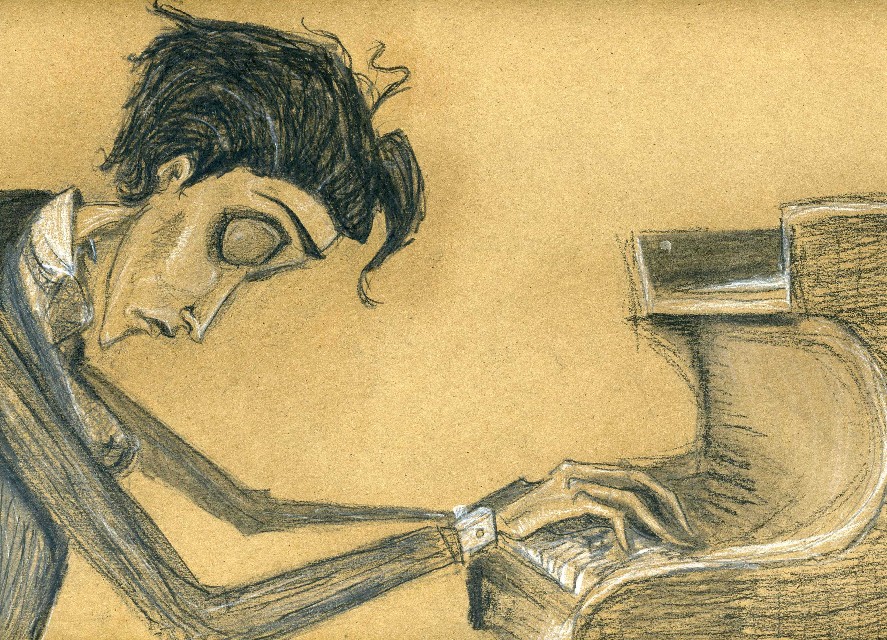 There is such a piano epidemy that no one wants to talk about, just a few people survive. We don't choose them, this mysterious instrument chooses us. Once is in your blood, your life is poised with a forever art, that can't be healed. We all have a piano inside of our soul, but not all of us can go so deep and see.
I met a Piano's soul last night . I have this feeling that I met him in another life. My soul recognizes him. His fingers makes love with the piano. There is not need to be jealous. Some people can't hear the screams of his soul, as it is a background that he is trying to cover with the music he makes. Wait, is not just music. Is a way for his soul to heal, clean, love, find the peace. He has tied piano strings to his heart so that every time it beat it didn't sound so empty inside. As soon he is there, playing it, there is not a body anymore, or this world living whatsoever, there is his naked soul, fragile, crying, screaming. He feels cold, hot, lost, fulfilled, there is a life that he is giving to his piano's soul. Each key is an emotion, a life that he makes, healing sound for the ears of his heart, deep feelings of him. He will start soft, like summer rain, or gentle as a kiss under the moonlight, but he'll always end as a storm, harsh words, so deep as you watch two bodies on fire, feeling each inch of the love he makes it. He can't take half, he wants it all.  For each note ended broken, and every key was abused, loved, pressed too hard. His soul riched the sky.
Can you feel the silence of his own exhausted breath, and can you feel how his piano is resting with him in this dark and empty room? Do you hear the echoes of the walls that can't talk, still can feel?
I'll learn how to listen to his silence between his innocent smile, and make my own story. Not sure if it feels good to know that this story is gonna be here forever.
Shhh..don't say anything. We all create art in our own ways. Just close your eyes and watch with me, everything they can't see, listen and feel it.
Close your eyes, God knows how much space is between his souls.
His eyes are like full moon on late September, with sadness in the corner that no one looks. His eyes are just a clean mirror of his soul, a deep ocean after a storm trying to calm down. Looking into them is like making art. Would he be able to keep the sparkle from his eyes forever? This ocean of him that no one learns how to swim. Would I be able to see him forever, the way I saw him this night ?
I am not afraid that it won't happen,
I am afraid that will happened and past
As sometimes a star just falls and extinguish.